Features:
1/1.8″ progressive scan super low lux CMOS sensor
Min. illumination at 0.0005 lux
Triple streams from H.265, H.264 or MJPEG
Up to 60 fps at 1920 × 1080
22x optical zoom and unlimited digital zoom
Intelligent IR
IR distance up to 200 m (655 ft)
Day and night function with IR-cut filter
Two sensor inputs and one alarm output
Wide Dynamic Range Pro (WDR Pro)
Vandal resistance (IK10 for metal casing)
Ingress protection (IP66)
Wide temperature tolerance (-40°C ~ 70°C / -40°F ~ 158°F)
TV-out support
Two-way audio
Built-in micro SD card slot (SDHC/SDXC, Class 10) for local storage
DC 24V / AC 24V
Pan 360° endlessly
Tilt from ‐15° to 90°
Pan and tilt speed of up to 300°/sec and 240°/sec, respectively
PTZ movement (Preset, Auto Pan and Patrol)
PTZ patrol by schedule
Smart settings (Cross line, Intrusion, Auto tracking)
Intelligent Mark
Auto focus
3D noise reduction
Motion detection
Privacy mask
ONVIF (Profile G, S, T) conformant
CE, FCC, RoHS, UL compliant
---
Note: 
No memory card slot & local storage function for Argentina.
Specifications are subject to change without notice.
Overview: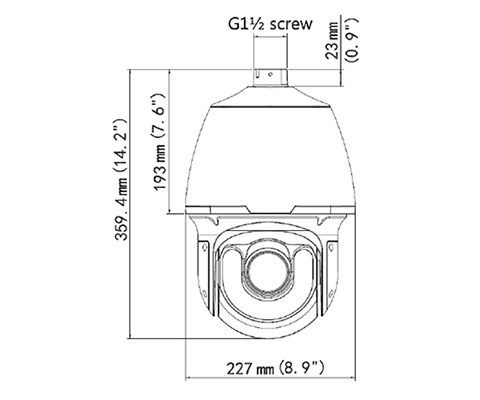 Accessories:
Model No
Name
Details
GV-Mount104
Straight Tube Kit
Dimensions: 219 x 125 x 332 mm (8.6 x 4.9 x 13.1″)
Weight: 1.8 kg (3.97 lb)
GV-Mount105
Straight Tube and Junction Box Kit
Dimensions: 256 x 256 x 297 mm (10.1 x 10.1 x 11.7″)
Weight: 6.2 kg (13.67 lb)
GV-Mount 208-3
Swan Neck Mount
Dimensions: 1043 x 519 x 256 mm (41.06 x 20.43 x 10.08″)
Weight: 10.6 kg (23.37 lb)
GV-Mount210
Wall Pendant Mount
Dimensions: 200 x 140 x 249 mm (7.9 x 5.5 x 9.80″)
Weight: 1.1 kg (2.4. lb)
GV-Mount300-1
Convex Corner Adapter Kit
Dimensions: 238.6 x 395.2 x 210 mm (9.4 x 15.5 x 8.2″)
Weight: 4.27 kg (9.41 lb)
GV-Mount310-1
Concave Corner Adapter Kit
Dimensions: 111.2 x 369.9 x 210 mm  (4.37 x 14.5 x 8.2″)
Weight: 2.96 kg (6.53 lb)
GV-Mount400-1
Pole Mount Bracket Kit (Ø 4 ~ 6″)
Bracket: 68.4 x 240 x 163 mm (2.69 x 9.44 x 6.41″)
Weight: 1.70 kg (3.75 lb)
Steel Strap Diameter: Ø 4 ~ 6″
GV-Mount410-1
Pole Mount Bracket Kit (Ø 6 ~ 7.5″)
Bracket: 68.4 x 240 x 163 mm (2.69 x 9.44 x 6.41″)
Weight: 1.70 kg (3.75 lb)
Steel Strap Diameter: Ø 6 ~ 7.5″
GV-Mount501
Convex Corner Box Mount
Dimensions: 136 x 256 x 256 mm (5.4 x 10.1 x10.1″)
Weight: 4.8 kg (10.6 lb)
GV-Mount702
Extension Tube
Four options are available.
Dimensions: Ø 5.4 x 10 or 20 or 30 or 50 cm
(Ø 2.1 x 3.9 or 7.9 or 11.8 or 19.7″)
Weight: 180 g or 390 g or 550 g or 800 g
(0.4 lb or 0.86 lb or 1.21lb or 1.76 lb)
Packing list:
GV‐SD2722‐IR Speed Dome
24V AC Power Adapter
M4 Hex Key
Waterproof Rubber Set
Waterproof Guidelines
Download Guide
Warranty Card
Videos: